If LimeWire only connects to one green bar or does not start at all, and you receive the following error message:
LimeWire was unable to initialize and start. This is usually due to a firewall program blocking LimeWire's access to the internet or loopback connections on the local machine. Please allow LimeWire access to the internet and restart LimeWire.
then a security program is likely blocking LimeWire. Check any security programs installed on your computer to make sure that LimeWire is listed as an exception. Norton's Internet Worm Protection feature can cause this error. Please check the documentation that came with your security software for instructions on how to allow exceptions for LW. The problem might also be your modem/router's NAT feature. Although the newer routers nowadays generally use UPnP to allow programs such as LW to communicate with the router to open ports, sometimes the router's UPnP is a poor implementation & does not work efficiently.
Third-Party Security Programs
Many third-party security programs block LimeWire from launching or connecting either by restricting access to the port that LimeWire uses to connect to the Gnutella network (i.e. - a firewall), the program itself, or a combination of the two. These programs may have been installed on your computer before you purchased it.
Adding An Exception For The LimeWire Program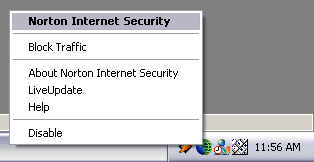 Sample right-click menu from the system tray icon
1.
Check the Windows system tray (usually located in the bottom-right corner of the screen, next to the time), and locate the icon associated with your security program. Right-click the icon to enter the settings.
2.
Locate a section for adding exceptions for specific programs.
3.
Add LimeWire as an exception (C:\Program Files\LimeWire\LimeWire.exe by default on Windows systems)
.
Mac OSX users should see
OSX Firewall settings for Tiger/Leopard (similar for Panther & earlier)
. OSX 10.5 'Leopard' Firewall instructions are in post #2. OSX 10.6 'Snow Leopard instructions are in post #3.
.
Only ONE firewall should be enabled
at one time. Most 3rd party firewalls clash with Windows firewall causing problems (including less security, not more), so choose one & disable the other if you have more than one firewall installed on your computer, and set up an exception for LW on the one you decide to use.
Windows 7 Firewall exception example:

(Click to see sample image of manually adding an exception.)
Control Panel -> Control Panel Items -> Windows Firewall -> Allowed Programs.
Windows 10: START > All apps > Windows System > Control Panel > System and Security > Firewall > Allow an app through Windows Firewall.
As mentioned earlier, most modems/routers have NAT which behaves a little like a firewall by blocking ports. If you suspect your connection problem to the gnutella network is due to this, see
Connection problems? Check here first! (click on link)
. Not all routers have UPnP built in, in such cases port forwarding is most likely the best answer. Likewise some routers do not utilise UPnP very well & are best port forwarded or 'port triggered'. If you believe this is necessary then either create a new post on the forum for help or go to
https://portforward.com/router.htm
UPnP is a method internet programs may use to communicate with the router to temporarily open ports for the program to use and connect to the internet with. (Likewise port forward & port trigger do the same thing only whilst the program is open.)
Top part of this post was mostly copied from the LW Wiki, many thanks to their support.

.