These installers can now only be found
here
since (1) LW stopped providing the zip ones for other OS systems for LW 5.5, and (2) LW site is presently under court injunction to prevent distribution of LW software. We will provide more such versions as we can.
With the 'Other' version, it's easy to use. Just unzip & open. This is only intended as a
last resort
for those people who are not having any success installing LimeWire. It's the one at the bottom of the list of downloads: Other (OS/2, Solaris, Linux) but will also run on windows. BTW you MUST have the latest Java version installed BEFORE you try to run this version.
(I updated this image to show the present download page as well as the older one.)
*NOTE: You must already have Java installed before you can use this version of LW.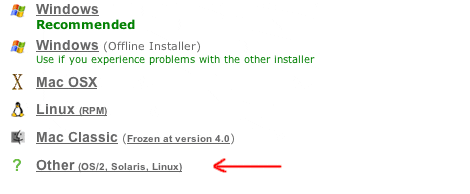 For
LW 4
: Simple, (a) download, (b) unzip, (c) Open folder & click on LimeWire program which is 156/160 KB in size. (ignore the LW Stub 342 KB & icon 90 KB) By default I show folders by icon, but put it into List or Details view mode so you can see what to click)
(click on sample image to see larger view


For
LW 5
: (a) download, (b) unzip, (c) Open folder & click open Limewire.jar file. This will be about 15,000 KB (15 MB) in size. Example I've shown gives example viewing Icon view mode & then also via viewing Details view mode.
.